Athenaes Siegel was founded 1985 in Vienna, with the main function to popularize, promote and play pen and paper role-playing games.
For this purpose regularly club meetings take place, where role-playing games are played. We are playing "The Dark Eye", "Dungeons & Dragons", "Shadowrun" and many other systems, some of them little-known and some of them old-established.
Furthermore we support our members by maintaining a library, which allows them to play different systems without buying every rulebook by their own. Our rounds find together either beforehand or directly at the club meetings - depending on the game master. To join the club meetings simple come around and participate. If you want to play along at the very first evening, and you don't have a figure - or like role-players call it, a character - we recommend raising your hand in the forum in advance. Thereby we can sort out your interests and prepare ourselves.
Our association is also present at many different role playing events in Austria to introduce our hobby to the public and to arouse interest.
Logo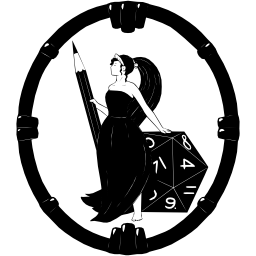 Our logo shows Minerva (also known as Athene or Athena), the goddess of wisdom, strategy, warfare and art.
She is holding the most important tools of roleplayers. A die (represented here as a 20-sided die) and a pencil.
Club history
Athenaes Siegel is the oldest roleplaying club in austria.
Bedeutende Ereignisse in der Vereinsgeschichte
Herbst
Erste Rollenspielabende finden im Café Zartl statt. Noch im selben Jahr erfolgte der Wechsel in das Lokal Laurin.
Jänner
Der Verein wird als Athenaes Schwadron gegründet. Da die Bezeichnung Schwadron für viele Mitglieder einen militärischen und unangenehmen Beiklang hat, erfolgte kurz darauf die Namensänderung in Athenaes Siegel
Die Pächterin des Laurin gibt das Lokal auf und eröffnet im 15. Bezirk das Restaurant Reginas. Der Verein, den mittlerweile ein freundschaftliches Verhältnis mit der Besitzerin verbindet, ist ebenfalls umgezogen.
Der Verein feiert sein 20-jähriges bestehen und hilft bei der Gründung des Fantasy Gaming Council.
Mai
Das Restaurant Reginas wird geschlossen, und der Verein muss sich ein neues Vereinslokal suchen. Vorübergehend wird das Café Sperlhof als Ausweichlokal verwendet. Aufgrund seiner Raumaufteilung ist es als dauerhafte Lösung nicht geeignet.
Juli
Das Café Goldengel im 3 Bezirk wird unser neues Vereinslokal.
September
Der Verein erwirbt die Web-Domain www.athenaes-siegel.at.
Der Verein feiert sein 25 jähriges Bestehen.
Mai
Aufgrund des neuen Tabakgesetzes müssen wir das Hinterzimmer, das zum Raucherbereich umgestaltet worden ist, räumen.
Wir versuchen noch einige Zeit, uns mit den neuen Gegebenheiten zu arrangieren, mussten aber letztendlich einsehen, dass wir wieder einmal übersiedeln müssen.
August
Nachdem wir uns mit den WoW/Keepers darauf geeinigt haben, ihre Clubräume mitzunutzen, können wir endlich in unser neues Vereinslokal übersiedeln.
Jänner
Der Verein feiert sein 30 Jähriges Bestehen.
November
Wir haben erstmals auf der Vienna Comic Con einen Stand bekommen und stellen dort unseren Verein vor.
Juli
Auszug aus dem gemeinsamen Lokal mit den WoW/Keepers und Bezug des Übergangslokals in der Pfarre Stadlau.
Oktober
Einzug in unser eigenes Lokal in der Gaullachergasse.
Jänner
Der Verein feiert sein 35 jähriges Bestehen.
April
COVID-19 legt das öffentliche Leben lahm. Athenaes Siegel führt das Vereinsleben Online über Discord weiter.