Komm vorbei zum Online-Vereinsabend!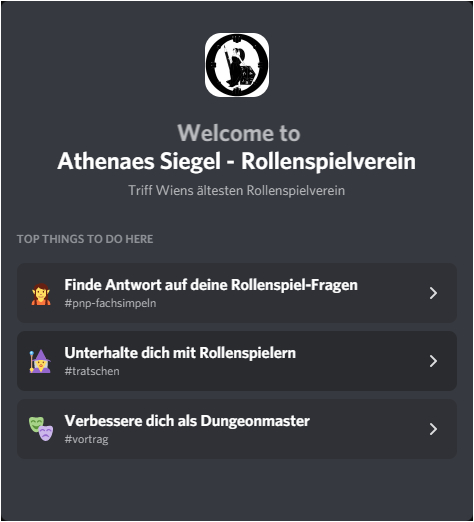 Corona geht leider auch an uns nicht spurlos vorbei, aber nur weil wir nicht in unserem Vereinslokal spielen können, lassen wir uns das Rollenspiel nicht verderben!
Unsere OnlineVereinsabende finden am Freitag und Samstag statt. Auch wenn wir dir auf unserer Discord Community Rund um die Uhr zur Verfügung stehen versuchen wir doch gezielt hier Runden für Interessierte anzubieten.
Noch nie gespielt?
Kein Problem. Wir finden schon einen Spielleiter und Mitstreiter für dich!
Noch nie gemeistert?
Kein Problem. Wir finden Spieler für dich und auf Wunsch einen erfahrenen Spielleiter der dir tatkräftig zur Seite steht!
Keine Lust auf Online Rollenspiele?
Auch kein Problem! Tausche dich mit unseren Mitgliedern über Rollenspiel-Themen aus, hol oder verteile Tips und Tricks oder unterhalte dich entspannt.
Interessante Links:
Trophäen für diesen Tag:
Einfach im Anschluss melden
Participants
1
These users have confirmed their participation:
The closing date for this event has passed.