Unser öffentliches Vorstandstreffen findet über Discord statt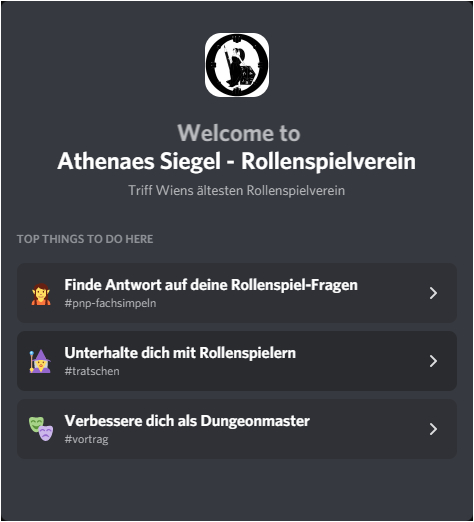 Besprochen werden allfällige Themen
Mikrofon für Gäste nicht notwendig
Zu besprechen:
Überlegung das Vereinslokal endgültig zu schliessen und erst nach der Corona-Krise mit einem anderen Lokal neu beginnen
Lokalsuche in der Woche vom 21.09.20
Planung der Social-Events (Discord und Vereinsabend gemeinsam oder jeweils getrennt)
Planung Gratis Rollenspieltag
Status der Sanierung
Corona Maßnahmen ab Montag

Einschränkung auf 10 Personen maximal
Weiter Maskenpflicht
Essen im Sitzen ohne Maske bei Einhaltung

Schäden am Lokal (weitere Schäden sind aufgetaucht)
Neue Version des Mitgliedsformulares: 2020/3

Verpflichtende Angabe einer E-Mail-Adresse

Anpassung der Datenschutzerklärung
Neue Termin-Struktur

An ungeraden Kalenderwochen jeweils Freitag & Samstag Vereinsabende
An geraden Kalenderwochen Vorstandstreffen dann Social Event

Abwechselnd Freitag und Samstag, jeweils anderer Tag Vereinsabend
oder

1. Freitag Vorstandstreffen dann Social Event, Samstag Vereinsabend
2. Freitag Vereinsabend, 2. Samstag Social Event
Participants
7
These users have confirmed their participation:
The closing date for this event has passed.
Non-Participants
These users are definitely not participating:
Arbeitstechnisch leider doch verhindert
Invited Participants
These users have been invited: